1985-1995 - Nintendo Co., Ltd.
---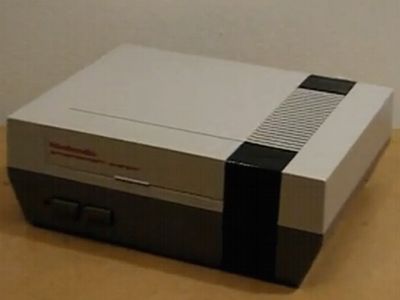 Manufacturer:
Model No.:
Generation:
Release Date:
Discontinued:
Controllers:

Share:

Facebook

Reddit

Digg
Related to the
HVC-001
-
Family Computer (Famicom)
Related to the
AN-500
-
Sharp Twin Famicom
Related to the
AN-505
-
Sharp Turbo Twin Famicom
---
The Nintendo Entertainment System was released to North America not long after the video game crash, a time when the market was... perilous at best. Heavily redesign from the original Family Computer released in Japan two years prior, the NES was marketed across the Pacific as more of a toy. It was originally sold in toy stores, and was packaged with R.O.B. (short for Robotic Operating Buddy) to help complete the image. It also looked not unlike a toaster.
The history of how the NES came to the US, and how it differs from the original Famicom, is wonderfully detailed in our ongoing video series! Check out the related videos below, or watch all of Season 1.
---
Included Parts
NES-001 - Nintendo Entertainment System
NES-002 - AC Power Adapter
NES-003 - RF Adapter
NES-004 - Controller (2)
Game Storage Medium
Accessories
NES-005 - NES Zapper
NES-012 - R.O.B the Robot
NES-026 - NES Advantage
NES-028 - Power Pad
NES-032 - Satellite
NES-033 - Satellite Wireless Receiver
NES-034 - NES Four Score
NES-039 - Controller (Redesign)
(see more)
---
Related Videos

---