1986 - Nintendo Co., Ltd.
---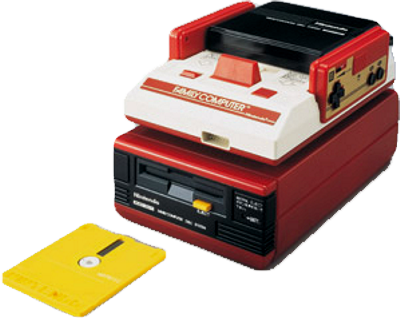 Manufacturer:
Model No.:
Generation:
Release Date:
Discontinued:

---
Even though the Famicom Disk System was never released outside of Japan, this add-on to the Family Computer (Famicom) had a tremenedous impact on how games were developed for the Nintendo Entertainment System (NES). If you've ever wondered why some titles asked for a password to continue your gaming session, while others allowed you to save your data via battery backup, look no further than this little red box.
The history of how the NES came to the US, and how it differs from the original Famicom, is wonderfully detailed in our ongoing video series! Check out the related videos below, or watch all of Season 1.
---
Included Parts
HVC-022 - Famicom Disk System
HVC-023 - RAM Cartridge Adapter
HVC-025 - AC/DC Power Adapter
HVC-026 - RF Extension Cord
Game Storage Medium
HVC-021 - Famicom Disk System Card
(see more)
---
Disk System Error Codes
Err. 01 - No disk card
Err. 02 - No disk power supply (batteries and/or AC adaptor)
Err. 03 - Disk card is write protected
Err. 04 - Disk card not authenticated [game maker ID]
Err. 05 - Disk card not authenticated [game name ID]
Err. 06 - Disk card not compatible [version ID]
Err. 07 - Wrong side of disk card set in drive
Err. 08 - Disk card #1 wrong
Err. 09 - Disk card #2 wrong
Err. 10 - Disk card #3 wrong
Err. 20 - Screen data wrong
Err. 21 - Disk card header block (Nintendo-HVC) wrong
Err. 22 - Disk card header block #$01 unrecognized
Err. 23 - Disk card header block #$02 unrecognized
Err. 24 - Disk card header block #$03 unrecognized
Err. 25 - Disk card header block #$04 unrecognized
Err. 26 - Unable to write to disk card
Err. 27 - Block end mark seen but ends prematurely
Err. 28 - File ends prematurely during read
Err. 29 - File ends prematurely during write
Err. 30 - No space left on disk card (full)
Err. 31 - File count in header and number of files on disk card do not match
---
Related Videos

---